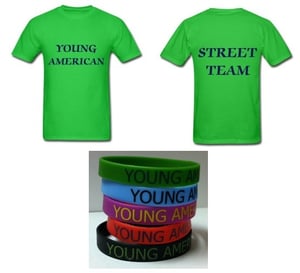 $

22.00
This is a t-shirt for the street team of the band Young American. It is a simple shirt. It says "Young American" on the front and "Street Team" on the back.
**THIS OPTION COMES WITH A YOUNG AMERICAN BRACELET***
***PLEASE NOTE THAT THE PICTURES ARE NOT THE ONLY COLOR OF SHIRT YOU CAN GET. ALL COLOR OPTIONS ARE AVAILABLE IN THE SCROLL DOWN MENU***
The shirt is a classic-cut standard weight t-shirt for men, 100% cotton.
When you order, make a note saying what color of text you would like on your shirt and what color bracelet you want.
If you need a bigger size, it can be done, but it will cost more. Contact me and I'll get you a price.
TEXT COLOR OPTIONS: Black, White, Cream, Yellow, Gold (non metallic,) Orange, Maroon, Chocolate, Red, Magenta, Pink, Lavender, Purple, Navy, Royal Blue, Powder Blue, Green, Forest Green, Teal, Light Green
BRACELET COLOR OPTIONS:
-Black band with lime green text
-Red band with royal blue text
-Green band with blue text
-Light blue band with black text
-Purple band with yellow text